Science, Creativity and Experimental Design
By Mr. Michael T. Roche, Ms Aimée Babbin & Dr. Dina Ellsworth
Have you ever wondered if different headphones will give you noticeably better sound quality on your iPad? … or how effective waterproof mascara is? ... or if spending more for the expensive paintballs has any effect on your accuracy when used with your equipment? ... or what an algorithm is and how some algorithms might affect your life as a student? ... or how difficult (or easy) it is to program an app for your smartphone?
We've found that pursuing questions generated by the students themselves offers wonderful opportunities for teaching science. If a student is passionate about a topic, they can be guided to explore that topic as a scientist might. Some of the experiments that students decided to perform in an earlier course are here. They're fun!
If the thought of challenging your creativity intrigues you, that's all you need to bring on the first evening!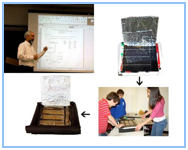 This course will challenge students to formulate questions and devise ways to answer them. This may involve online resources, measuring devices, data logging hardware, software and other resources, but regardless of the tools used, students will be challenged each week with opportunities to creatively investigate topics in a variety of scientific disciplines. Our experience has shown that our more creative students usually ask the best questions.
Willing to challenge your creativity and see what that has to do with the design of experiments? If so, we'd love to work with you this coming semester!
Although not required, students will be encouraged to document and communicate their personal inquiries through online networking resources. An online course resource that utilizes Google Classroom will supplement this Stars Challenge foundation course and allow students to communicate with Stars Challenge instructors, teaching assistants and select members of High Technology High School's Experimental Research Group – older students who have been successful in local, state and regional research competitions.



Mr. Michael T. Roche
Science Faculty
High Technology High School
Mr. Roche is a research advisor and biology teacher at High Technology High School, located on the campus of Brookdale Community College in Lincroft, NJ. Mr. Roche earned a B.S. in Environmental Science from Rutgers University and an M.A. in Environmental Studies from Montclair University. He has served as a Director for the National Consortium for Specialized Secondary Schools of Mathematics, Science and Technology (NCSSSMST) and is the recipient of numerous grants and awards for excellence in science teaching. He currently serves on the board for AAAS / American Junior Academy of Science, coordinating their student poster sessions. Many of his summers have been spent in residence with students involved in environmental research projects. In his spare time, Mr. Roche enjoys juggling, entertaining grandchildren, reading, and creating rhythmic sounds with a variety of musical instruments.

Curious? Conscientious? Inquisitive? Adventurous?
Just the type of student we want to be part of our team.