Forensics
By Ms. Carleigh Engstrom
Did you ever wonder how investigators solve crimes? Do you enjoy watching episodes of CSI? Well, this course is for students who love solving mysteries.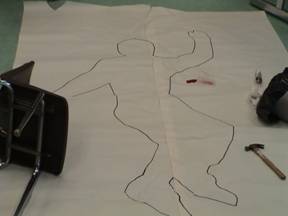 Each session will provide students an opportunity to build investigative skills and think like a crime scene investigator. Student-sleuths will analyze physical evidence and debate possible hypotheses. This course introduces comprehensive activities that allow students to utilize skills and tools they've developed during previous sessions.
Students will learn how to use evidence to reconstruct a crime scene. Through various lab experiments, students learn to forensically analyze numerous pieces of evidence like blood splatter, fibers, fingerprints, hand-writing and DNA.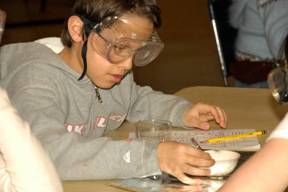 Through simulated crime scenes, students will examine evidence, experiment with different testing techniques, reconstruct the activities of the perpetrator, and expand their powers of deduction to solve crimes.
Some of the labs explored in this course are:
In "An Inky Lead" lab students will observe various receipts collected as evidence through a case to detect forgeries.

Through "Bad Impressions" students will observe their own bite marks to detect distinguishing characteristics.

In "Forensic Chemistry of Blood Typing" students will determine the (simulated) blood type left at a crime scene and compare that to suspects.

Using the "Golden River Heist" case students will observe DNA, fibers and hairs, complete paper chromatography and test for gunpowder residue.
If mysteries have always intrigued you, and you would rather be actively solving them than just reading about them, then this introductory forensics course is perfect for you.

Ms. Carleigh Engstrom
Science Faculty
Biotech High School
Ms. Engstrom is the tenth grade Molecular and Agricultural Biotechnology teacher at Biotechnology High School. Ms. Engstrom has a B.S. in Secondary Education and Biology from Monmouth University and actively participates in research projects over the summer. She became interested in forensics when she took the class in high school. In her spare time she enjoys reading, going to the beach, and watching The Office.